Casket Flowers
***We create beautiful funeral pieces for services taking place any time of day, BUT, Please understand that we cannot make early morning funeral pieces for ONLINE ORDERS THAT ARE PLACED AFTER 3PM or OVERNIGHT (for the following morning.)***
Casket sprays offer a final tribute to a departed loved one. It's beauty and elegance sets the tone of the funeral service. There are two types of casket arrangements: full couch and half couch. Full couch is for a closed casket, and half couch arrangements are typically used for an open casket. Flowers for cremation services are also available. For any type of funeral flowers in the New Orleans area, HARKINS THE FLORIST is here to help.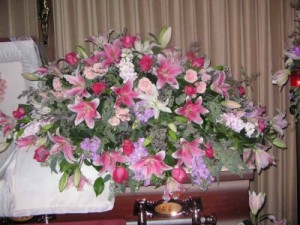 Beautiful Tributes from the Family
Casket Sprays
Below are several selections of casket sprays. Please call (504-529-1638) and speak with one of our designers for help in choosing the colors, style and size of spray that will most suit your needs.