Home
*This site is set up exclusively for those who would rather conveniently order on line with a credit card. The convenience fee is added by FlowerShopNetwork.
Welcome to
harkins, the florist!
Everything below is IMPORTANT TO READ!!! really.
We are a real local florist located in the Lower Garden District of New Orleans, Louisiana for all of your flower needs.
Just click on one of the catagories below (or to the left) to place your order online!
Or call us at 504-529-1638
As of late, we have been booking up quickly (days in advance in some cases!), so please place your order as early as possible, especially around the holidays.
​​***DURING NORMAL OPERATING DAYS, We offer same day flower delivery if we have the order by 1:00pm M-F, 9:00am on Saturdays - except when we get BUSY and around holidays, when we close early!
Monday – Friday 8:30 – 5:30
Saturday 8:30 – 12
Sunday REST
During normal operating days, PLEASE INFORM US if there is a time requirement for your delivery. We can deliver items BEFORE or AFTER a time that you designate.
**When using our online system, please provide us with a phone number that you regularly check/use. Without a working contact number for the sender, potential delays/issues may occur. We will not call the recipent and ruin the surprise unless explicitly directed to.
***Please note that the wine bottle in our arrangement photographs is for scale and not available for delivery.
We do things a little differently with our flower arrangement catagories. We've been asked over and over to have our arrangements separated by price, rather than occasion. We've come up with "Economical", "Mid Range", and "Wow!" and "Designers' Picks!"
Since we can't edit the page titles, here is the key to the column on the left: (Economical=Anniversary Flowers, Mid Range=Just Because, Wow!=Birthday Flowers, Roses=New Baby Flowers, Orchids=Get Well Flowers, Designers' Picks=Graduation Flowers)
Click on your catagory here:
When asked to send a flower arrangement "just like the one you sent for us six months ago,"
we respond that our arrangements are like fingerprints; no two are the same.
There are so many ways to do flowers, just like the many flavors of ice cream.
Floral designers perform best when given license to create without micro-management. The worst approach, unfortunately the tack taken by the FTD/Teleflora crowd, is to come up with pictures of "ideal" arrangements and say, "Here, copy this!" Around the shop we call this "paint by numbers." Designers hate these orders. They can do them, but they produce the worst outcomes. It is far better to put qualifiers on your arrangement and allow the designer to create within these parameters. Making flower choices to the following give a good formula the designer can follow. Vase or cello wrapped arrangements; Color, either bright, strong colors, or soft pastels, perhaps monochromatic; a mixture of garden flowers, tropical flowers, or all one type of flower; an arrangement with a contemporary feel, or more traditional.
Write your flower formula using these choices and we believe you will be happy with the designer's creation.
Not to contradict what we have just said, but so that you may better understand these options, we include examples of our work for browsing here on the web. Just keep in mind that our presentation will be "in the spirit of" a certain arrangement. Our fresh flower stock changes day to day, and it is often impossible to replicate a certain flower arrangement viewed here.
We are located at 1601 Magazine Street, New Orleans, La. 70130
Call us at:
504-529-1638
*This site is set up exclusively for those who would rather conveniently order on line with a credit card. The convenience fee is added by FlowerShopNetwork.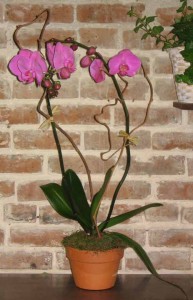 Our orchids generally run in the $75 to $100 range. The pictures on this page are representational of those prices. On occasion we are able to get larger Phalaenopsis orchids and also other varieties. Call, or email and ask about availability.